Rivals in the reality show (Gay Romance Visual Novel)
A downloadable game for Windows


"The rivals in the reality show" is a fast-paced, whirlwind visual novel about two rivals who participate in a reality show together.
Larry is the handsome vocalist of The Broken Red Guitars, a garage band suddenly turning popular. Wilk is the mysterious lyrics writer from Purple Vanilla - a rival band playing nostalgic dream-pop. Despite the fact that Larry and Wilk's fans hate each other, the two men feel a strong connection.

When Larry's manager declares that his band will participate in a reality show together with Purple Vanilla, Larry isn't sure of what to expect. Soon, he's stuck in a confusing love triangle, between him, his rival Wilk, and his best friend Gilbert.
To make matters even more complicated, someone in the reality show is telling lies… Who is it, and what effect will it have on Larry's heart?
Player's Age: 18+ (no explicit adult content, but might touch on some adult topics, as it was based on a short story solely for adult audiences).


11,000+ words of professionally written text by a published author;
Linear storyline, no choices, one ending (happy ending).

Quirky characters (no animations but with different clothes): 1 cute protagonist, 1 true love, 1 fake love interest, 7 amazing supporting characters.
Colorful backgrounds depicting a luxurious villa where the reality show takes place.
A handpicked, electronic soundtrack by various artists that you'll surely want to listen on repeat to!
An elegant game interface replicating a reality show's program.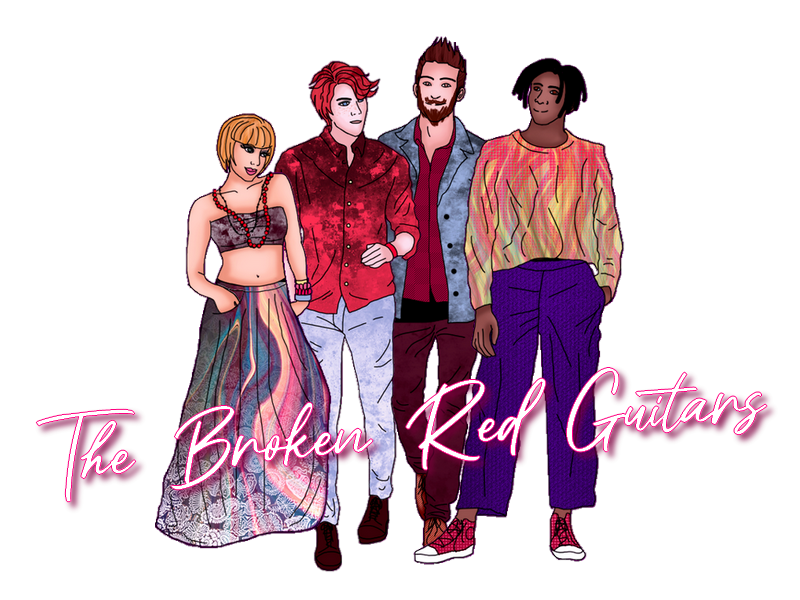 The Broken Red Guitars are an old garage band suddenly turned popular, thanks to rock covers of old, beloved pop songs. It consists of four members:

Larry - A handsome but somewhat insecure man with a passion for card games.
Gilbert - Larry's best friend and the lead guitarist who dates a sweet girl named Manuela.
Marvin - A quiet soul but a crazily skilled drummer.
Eve - A bass player and the heart of the team who gathered them all together.
Their greatest hit is a song titled "Your Poker Lips," which was a tribute to Larry's high school crush, his teacher Mrs. Smith, who rejected him after a failed love confession.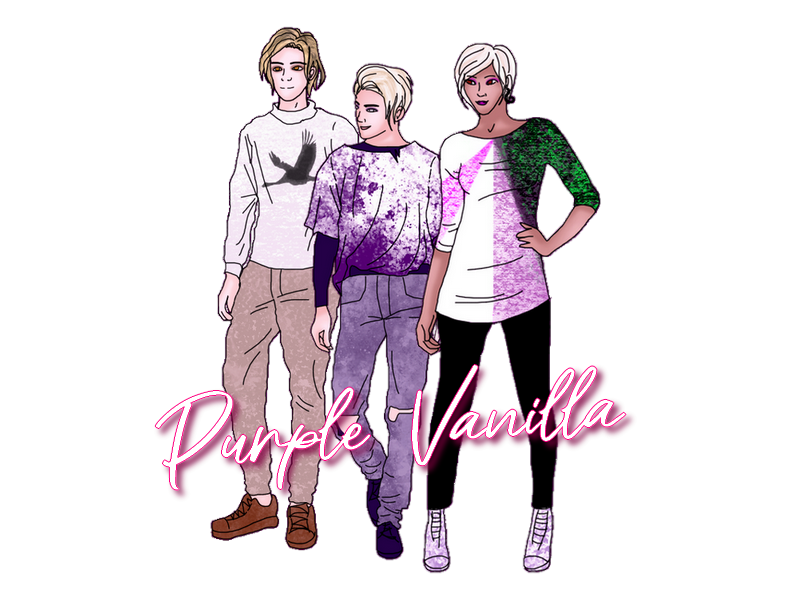 Purple Vanilla are a trio playing nostalgic dream-pop. It consists of three members:

Wilk - mysterious and highly talented lyric writer from Poland.
Austin - young, shy and kind composer highly inspired by Japanese visual arts.
Skyler - DJ adding psychedelic vibe to the acoustic tracks, turning each song into a masterpiece able to touch young people's hearts.
Their newest album is titled "The Lost Train" and according to Wilk, it's about a metaphorical journey through life. All songs are titled: "Station: Home," "Station: Love," "Station: Heartbreak," etc.


(coming soon, we've just replaced the game interface to give it a cooler look!)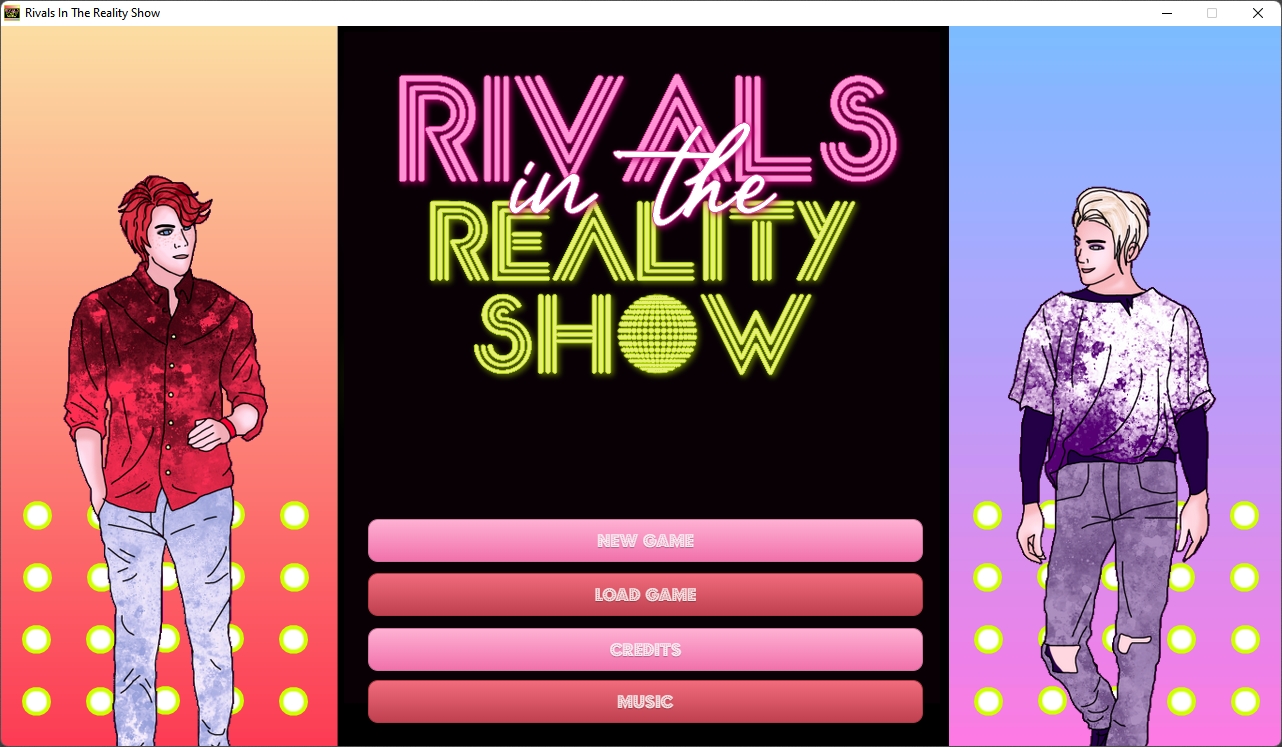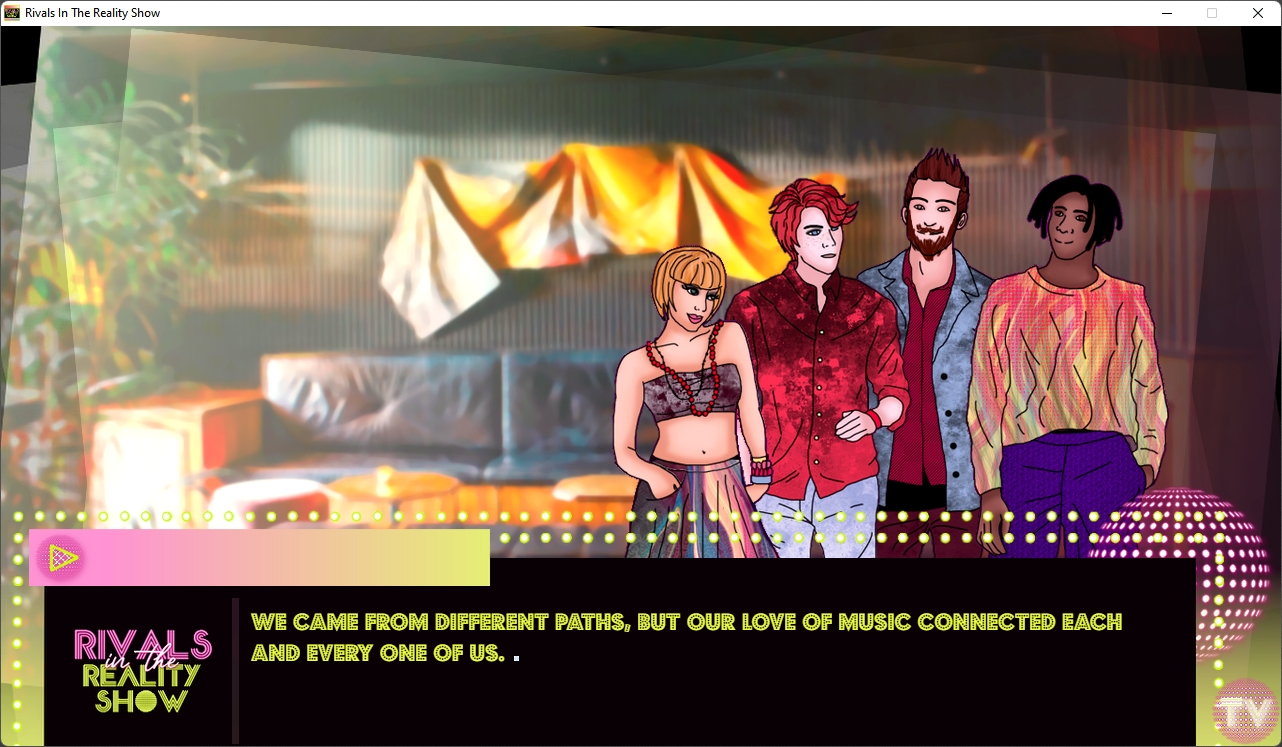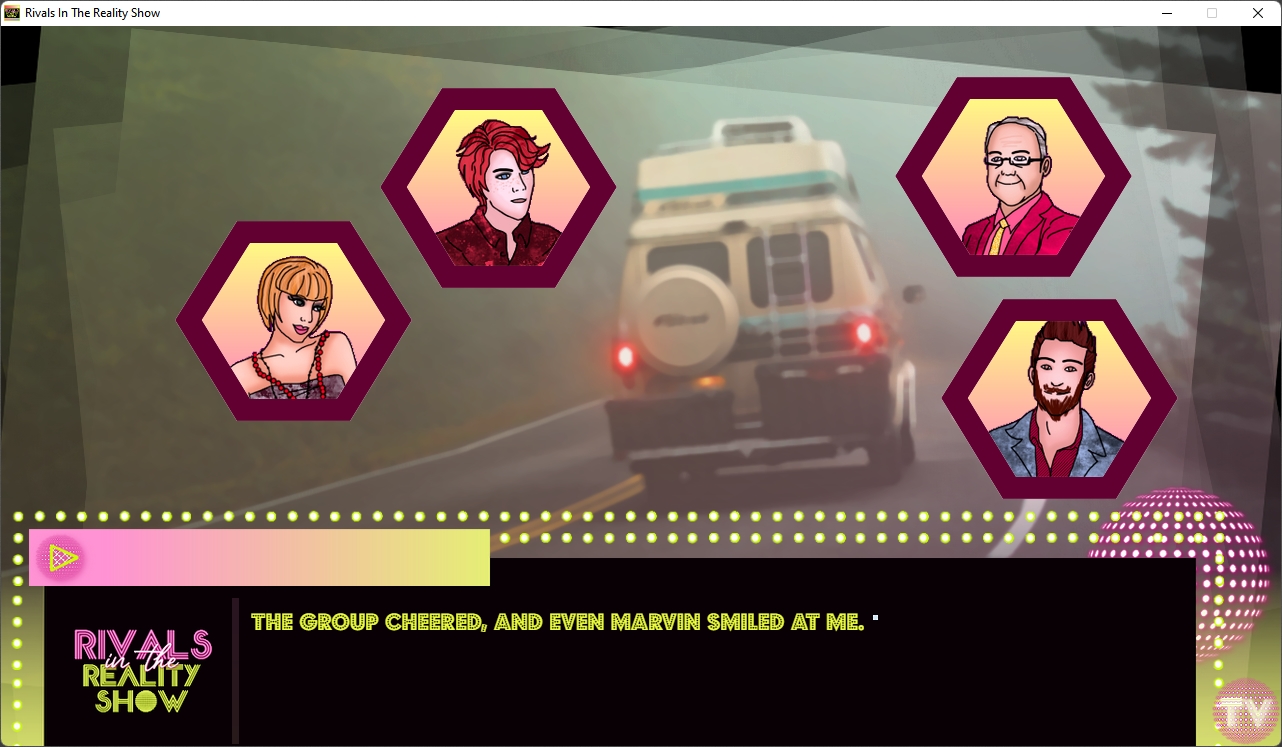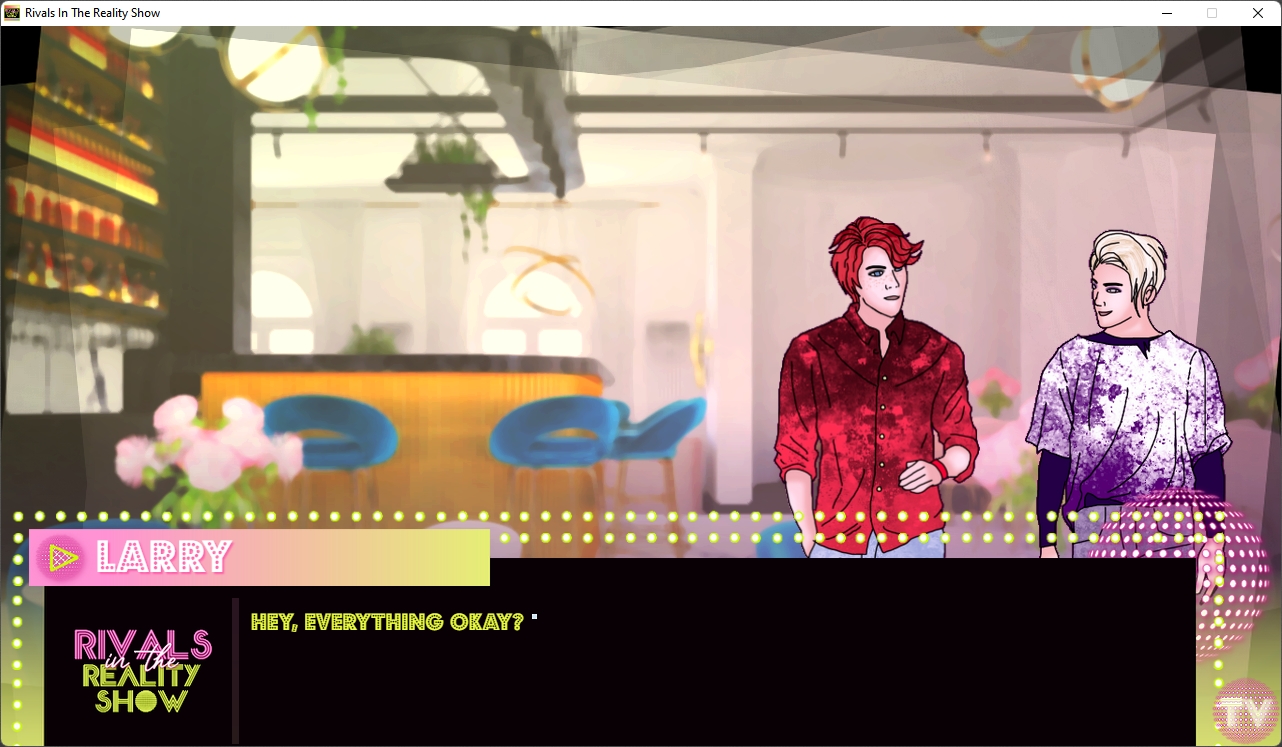 F - Francis (Menu)
R - Recap (Backlog)
S - Save
L - Load
Esc - Go back to main menu
Space - Progress the game


Hasalynx Games is an indie game gig that doesn't have any external funding, and mostly relies on unpaid human effort to keep producing its games. We use mostly free resources and create scenarios from ready short stories and novels published by our people. If these games spark your curiosity, please buy them (they're so cheap!), comment, and spread positive word. Also, don't forget to add this game to your collections and follow Hasalynx Games on itch.io, so as to receive updates when a new game is up!
Purchase
In order to download this game you must purchase it at or above the minimum price of $5 USD. You will get access to the following files:
HasalynxGames-RivalsInTheRealityShow.rar
117 MB