Perfect Acting (Gay Romance Visual Novel)
A downloadable game for Windows

Perfect Acting is a sweet visual novel about a shy independent film director and the outgoing actor starring in his newest movie.
Zoltan is an amateur film director whose specialty is gay romance movies. When Gellert, a gay activist and famous blogger, chooses to interview him, little does Zoltan know how the online conversation will change his life.
After receiving a unique invitation to play a role in Zoltan's newest slice-of-life movie, Gellert is thrilled. However, there are several problems during shooting, and soon Zoltan is forced to give up the director's chair and join his cast.
Kisses exchanged on screen change Zoltan's and Gellert's friendship forever. Gellert hopes for something more, but Zoltan is introverted and difficult to talk to. Their personalities, interests, and lifestyles clash. Gellert knows he should let Zoltan go and as soon as possible... But his heart just won't listen.
Player's Age: 16+ (contains trigger topics such as alcoholism)


Up to 10,000 words of professionally written and edited text (both main characters' perspectives).
Linear storyline, no choices, one ending (happy ending).

Quirky characters (no animations but with different clothes): 1 shy but adorable protagonist, 1 true love, 1 ex, 1 drama queen, 1 guy who doesn't understand what a passionate kiss is, 1, chocolate lover and 1 cat cafe owner.
ALSO, 3 GREAT CATS, OUT OF WHICH 2 STIR DRAMA.
Colorful, eclectic backgrounds which create a vintage atmosphere.
A handpicked jazzy soundtrack by various artists that you'll surely want to listen on repeat to!
A movie-themed game interface resembling Zoltan's files.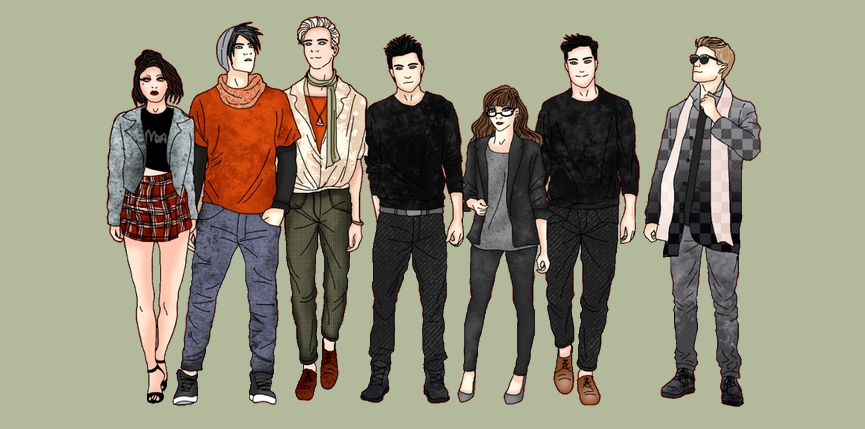 THE HUMANS
(from left to right)
Kriszta - the owner of the cat cafe, and Zoltan's long-time best friends. She makes best hot chocolate with spices and knows wanna-be actors. She hates public displays of affection, too.
Zoltan (main character) - timid movie director from a toxic family, who spent his whole life in the closet, where he only keeps five sets of different outfits, so as to never doubt again what to wear. No, but honestly, he's a nice, cute, and somewhat shy guy who tries to act professional at all times.
Gellert (love interest) - he hates his grandfatherly name, but still uses it. Apart from it, he's a gay activist and hyper popular blogger. Charming and charismatic, he plays the role of Zoltan's ex-crush, Stephen.
Jani, Dori and Andris - the ad-hoc crew playing in Zoltan's newest movie. They all have strengths and weaknesses which instigate drama...
Laszlo - Laszlo is Gellert's ex, and needless to say, Gellert totally hates him. But perhaps, he's going to change his mind over time? Should Zoltan be jealous?
THE CATS:

Bobcat - An American Bobtail who pretends to be a lynx. He's an adopted stray who loves tuna and seldom meows. Will he return on the wild path one day?
Fluffy Rug - The true name of this cat is unknown, but what is known is that he (she?) loves lying lazily on the floor, mimetizing fluffy rugs...
Black Panther - The newest attraction at the cafe, they say meeting black cats brings bad luck, but the opposite may actually be true...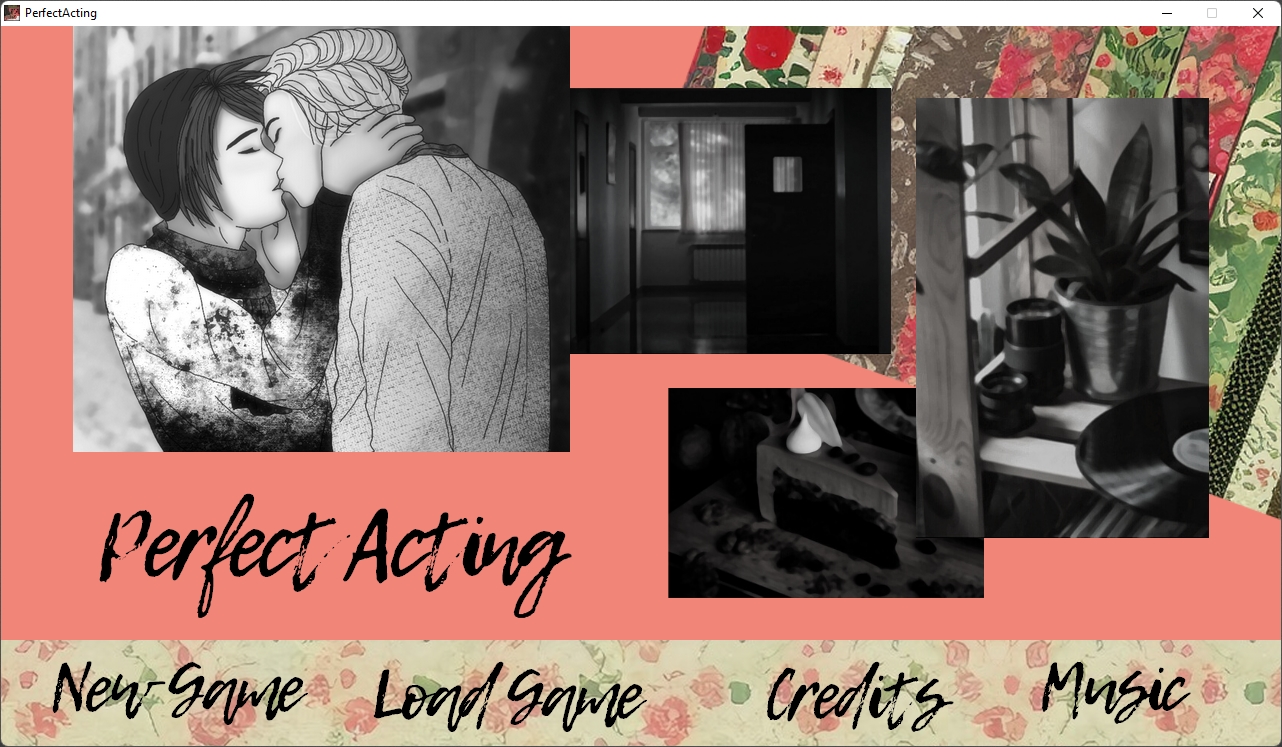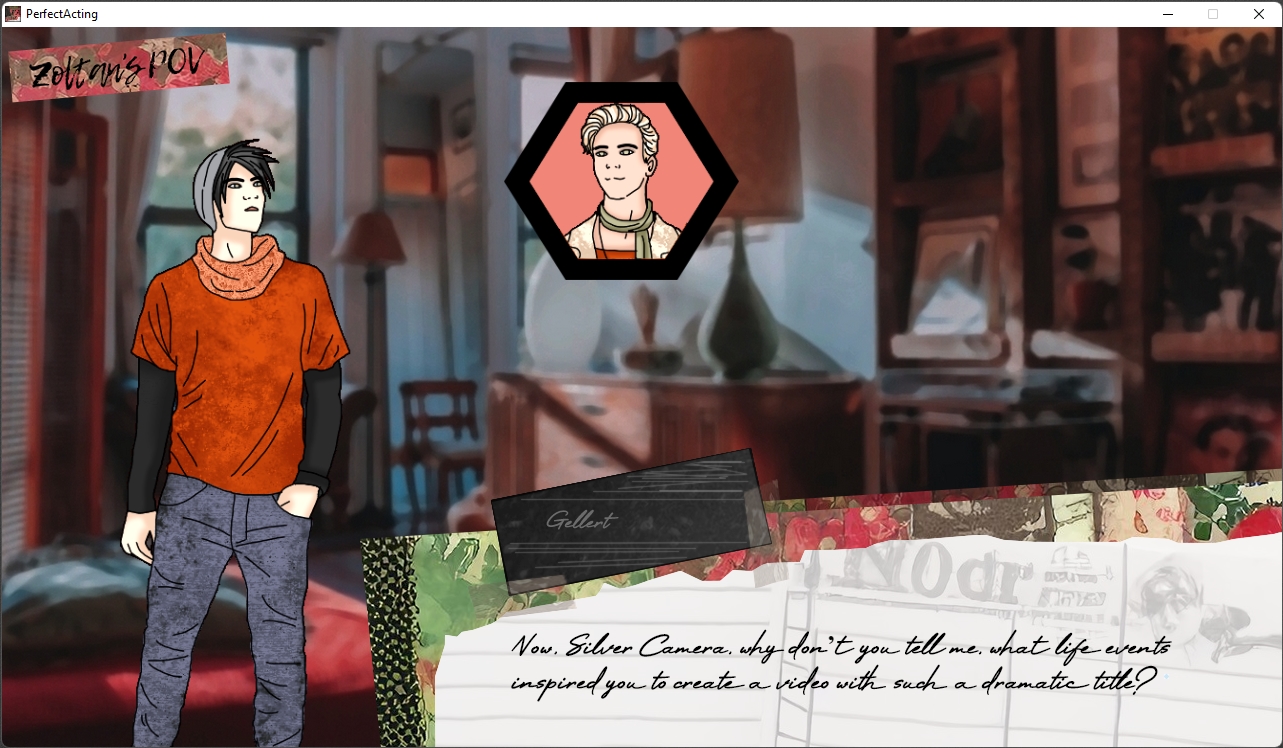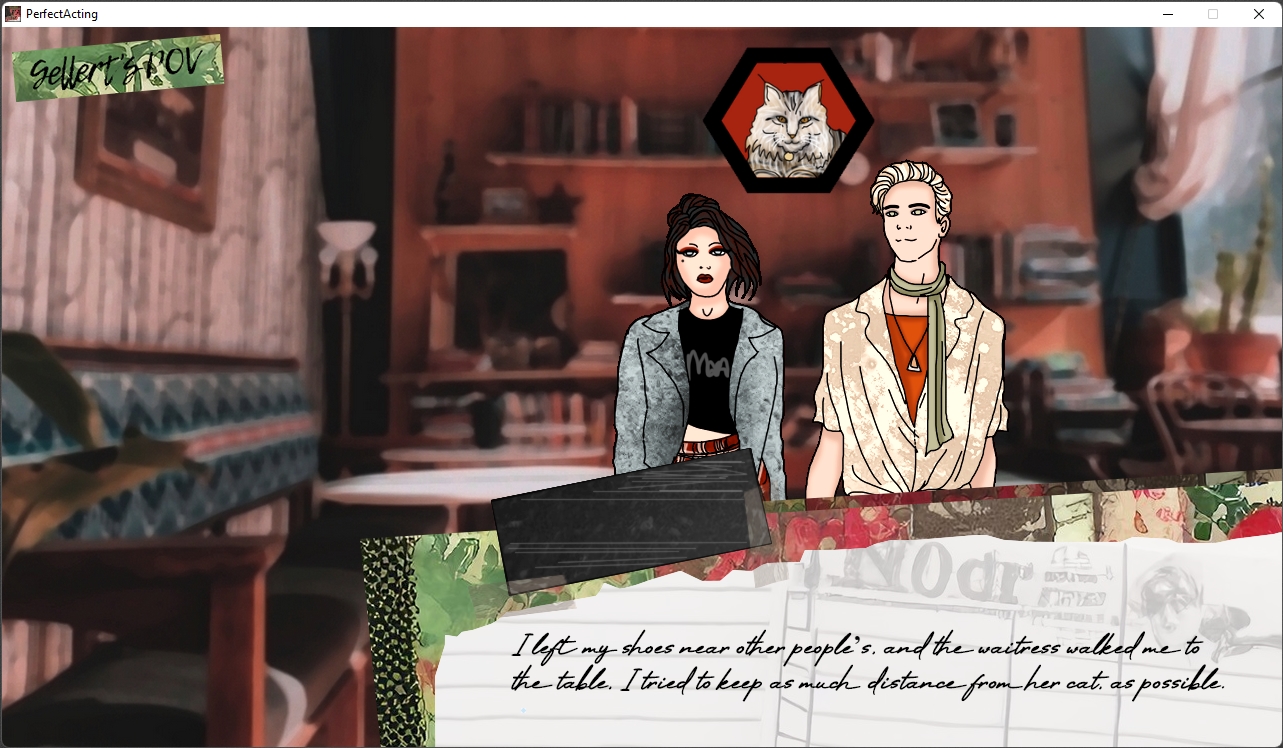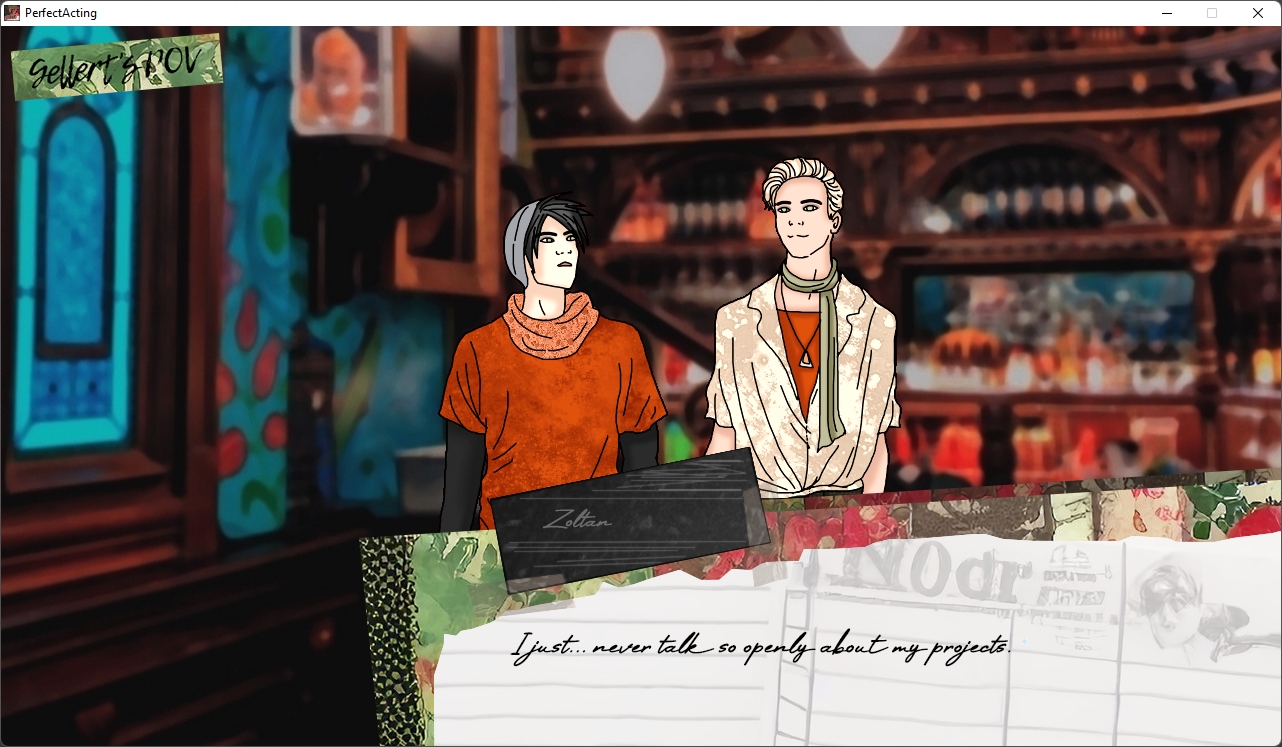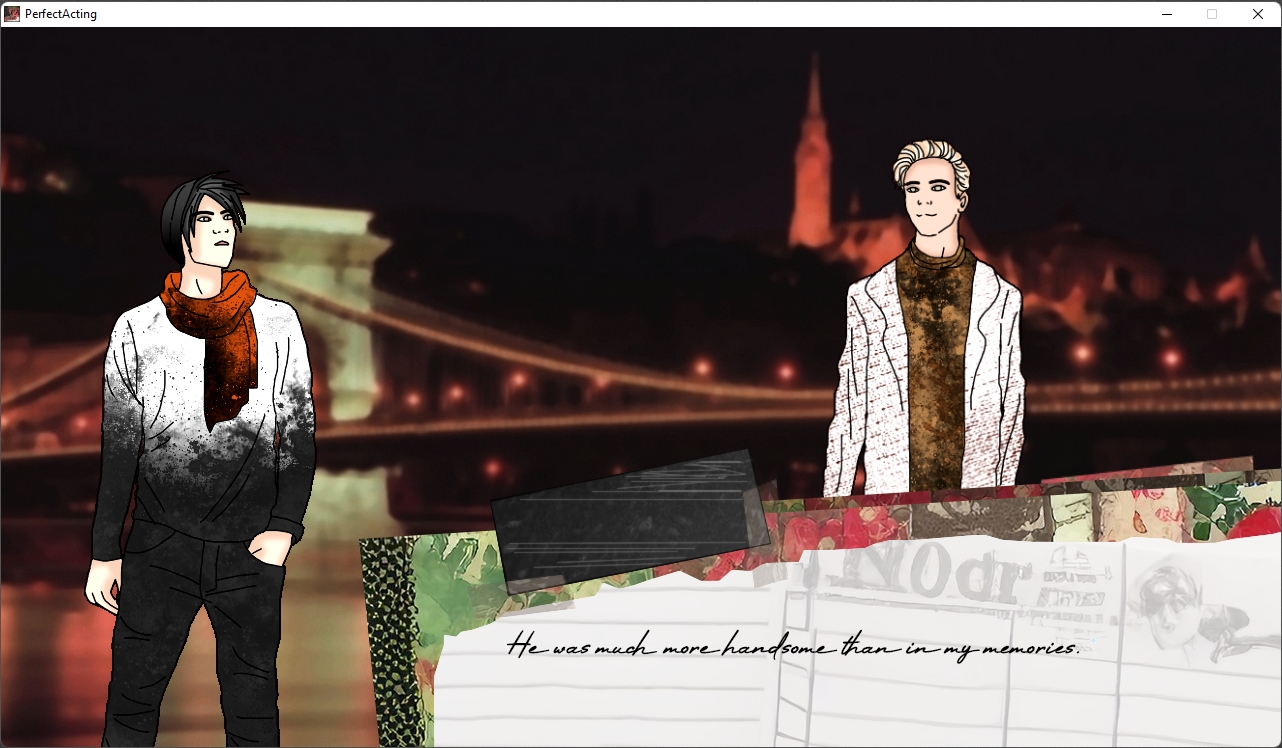 The game is controlled by mouse and keyboard, and it has no menu button. To access the menu and save the game, use one of the following keyboard shortcuts:
B - Backlog
S - Save Game
L - Load Game
M / Esc - Main Menu
Space - Progress the game

Hasalynx Games is an indie game gig that doesn't have any external funding, and mostly relies on unpaid human effort to keep producing its games. We use mostly free resources and create scenarios from ready short stories and novels published by our people. If these games spark your curiosity, please buy them (they're so cheap!), comment, and spread positive word. Also, don't forget to add this game to your collections and follow Hasalynx Games on itch.io, so as to receive updates when a new game is up!

Purchase
In order to download this game you must purchase it at or above the minimum price of $5 USD. You will get access to the following files:
HasalynxGames-PerfectActing.rar
90 MB